History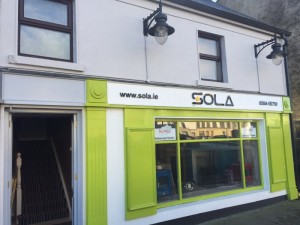 Sola is a Tipperary based Energy Solutions provider and installer. The company was established in 2008 and is run by its managing director, Paul O'Brien.
The company was initially established as a solar panel supplier and installer. However as new technologies and products with increased outputs and efficiencies became available, the company expanded its portfolio to include these various energy systems. The company now supplies and installs a variety of high quality systems which include:
Thermodynamic Solar Panels
Air Source Heat Pumps
PV Panels
Demand Controlled Ventilation
Our portfolio of works completed includes:
One of the main installer of Thermodynamic Solar Panels (Energie System)
PV Panels (Conergy System) – The main contractor on Irelands largest PV project
Contractor on the Pilot scheme for the "Super Homes" project 2015 – Renewable retro fit project
Installed various sizes of heat pump, both domestic and commercial
Our working principal is to ensure we only use the best resources and materials. Over the years we have worked to establish solid working partnerships with company's such as Mitsubishi Electric, Joule, LVP, Conergy and many others to ensure our customers receives the highest quality product & service.
We have also worked closely and progressively with SEAI to keep up to date with progress in the Irish economy. We try, where possible, to use Irish & local manufactured products and suppliers.
We are fully trained and registered installers under the greener homes scheme, and have over 800 solar installations across Ireland.
The Sola Team are all fully trained in the required areas of solar and heat pump installations & Stove Fittings. This ensures that when our team of professionals arrive on site the job is completed in a timely manner.